Answer
The best-known cutaneous manifestation of TSC is adenoma sebaceum, which often does not appear until late childhood or early adolescence. This lesion is an angiofibroma (ie, cutaneous hamartoma) and is not related to excessive sebum or acne. Flat, reddish macular lesions develop first, which can be mistaken for freckles early on. They become increasingly erythematous and papulonodular over time, occasionally with a friable surface that may bleed easily. Facial angiofibromas typically are noted first in childhood and exhibit progression during puberty and adolescence (see image below). Adenoma sebaceum may be disfiguring.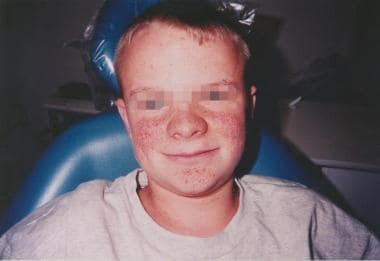 Facial angiofibromas in a young man with tuberous sclerosis complex.
Other skin lesions consist of hypomelanotic (ie, ash leaf) macules, periungual or gingival fibromas (see images below), and thickened, firm areas of subcutaneous tissue, often at the lower back (shagreen patch) or forehead and face (fibrous plaques).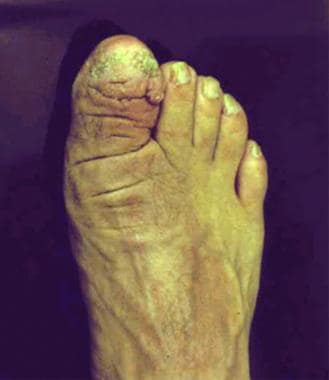 Dysplastic periungual fibroma involving the great toe in a patient with tuberous sclerosis.
Gingival fibromas (see arrows) in a patient with tuberous sclerosis. A stain outlines dental pits and craters. Gingival hyperplasia from other causes (eg, phenytoin use) is more diffuse and usually not nodular/focal in nature.
Hypomelanotic macules are usually round or oval in shape and vary in size from a few mm to as much as 5 cm in length (see image below). Sometimes they have an irregular, reticulated appearance, as if white confetti paper had been strewn over the skin (confetti lesions). When the scalp is involved, an area of poliosis (ie, hypopigmented hair) can result. They may be present at birth, or not show up until later in life. They vary widely in location and number from person to person. The number or size of the macules is not an essential feature of diagnosis. Hypomelanotic macules are a nonspecific finding and are not of themselves pathognomonic of TSC. Nonetheless finding more than 4 or 5 in a person who does not have the disease is uncommon.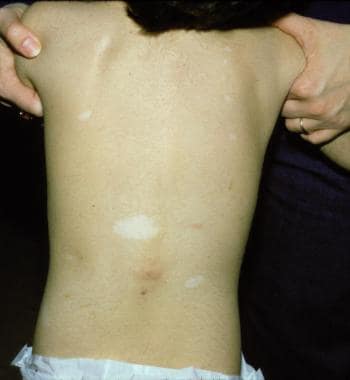 Typical ash leaf macules; the reddish, nodular area at the upper lumbar area is a shagreen patch.
Fibromas may occur in other locations. When present in the lumbar region they have been called a "shagreen patch." The overlying skin may have an orange hue. They occasionally itch or are associated with dysesthesia, leading patients to wonder if "it is pinching a nerve." Shagreen patches are confined, however, to the subcutaneous tissue and are not associated with dysraphism, osseous lesions, or mass effects on neural structures.
Fibromas can occur in the periungual regions, gingivae, or potentially anywhere in cutaneous or mucosal tissues. The underlying tissue may be hypertrophic/hamartomatous.

Symptoms can result from local irritation, such as that created by shoes, dentures, shaving, and disruption of the nail bed.
---
Did this answer your question?
Additional feedback? (Optional)
Thank you for your feedback!