Answer
Abnormal neurological findings result from the location, size, and growth of tubers and the presence of subependymal nodules (SENs) and SEGAs.
Tubers are noted most commonly in the cerebrum, without clear predilection for any particular lobe. They occur in the cerebellum as well, where they may be apparent only on microscopic examination. Rarely, they have been noted in the brain stem and spinal cord.
The number, size, and location of tubers can vary widely from patient to patient.

Depending on the location of tubers, neurological findings can include abnormalities in cognition (either global delays or specific location-related deficits like language delays), cranial nerves, focal motor/sensory/reflexes abnormalities, cerebellar dysfunction, or gait abnormalities.
SENs are noted about the wall of the lateral ventricles and may be either discrete or roughly confluent areas of firm, rounded hypertrophic tissue. SENs may occur anywhere along the ventricular surface, but most commonly occur at the caudothalamic groove in the vicinity of the foramen of Monro.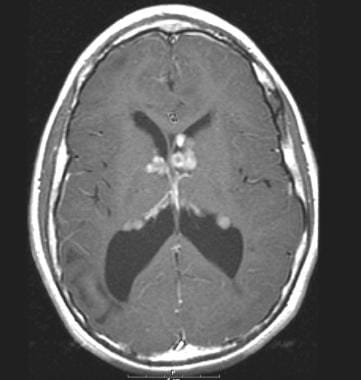 Enhancing subependymal nodules, including a probable giant cell astrocytoma in the region of the foramen of Monro. Subependymal nodules may increase in size over time from one scan to the next, and then stabilize. This lesion had not changed with serial imaging over 2 years. The patient remains asymptomatic and is monitored closely for any deterioration.
The generally benign SENs can degenerate into SEGAs in 5–10 % of cases. SEGAs can grow, often in an extremely indolent fashion, resulting in ventricular obstruction and hydrocephalus. Since this process occurs very gradually, patients may have marked hydrocephalus when they finally become symptomatic (see image below). In this situation, blindness or other permanent neurological deficit commonly ensues despite prompt neurosurgical intervention.
Hydrocephalus from a subependymal giant cell astrocytoma in a patient with tuberous sclerosis. The patient presented with acute blindness and ataxia.
---
Did this answer your question?
Additional feedback? (Optional)
Thank you for your feedback!