Answer
In the diagnosis of diffuse choroidal hemangioma, A-scan and B-scan ultrasonography may be useful diagnostic aids. B-scan ultrasonography characteristically shows a solid, echogenic mass, whereas A-scan ultrasonography demonstrates high internal reflectivity. (See the ultrasonograms below.)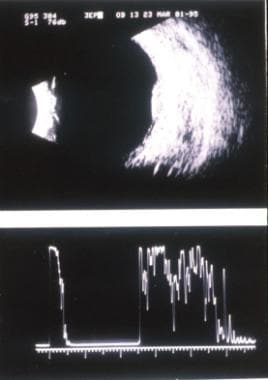 Choroidal hemangioma. Image courtesy of Thomas M. Aaberg, Jr, MD.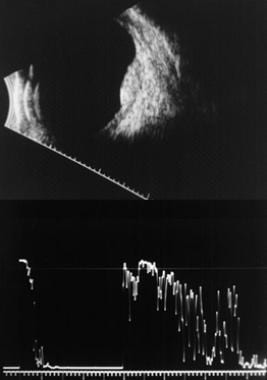 Circumscribed hemangioma. Image courtesy of F. Ryan Prall, MD.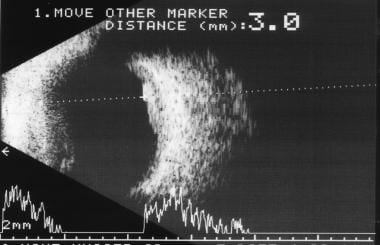 B-scan of a choroidal hemangioma showing medium to high internal reflectivity. This is a circumscribed choroidal hemangioma. The patient was not diagnosed with Sturge-Weber Syndrome. Image courtesy of Abdhish R Bhavsar, MD.
Jordan et al reported the use of transcranial Doppler ultrasonography in 8 children with SWS. Decreased arterial blood flow velocity and increased pulsatility were found in the middle and posterior cerebral arteries, suggesting high resistance. These results may reflect high venous stasis, potentially contributing to chronic hypoperfusion. [82]
---
Did this answer your question?
Additional feedback? (Optional)
Thank you for your feedback!