Answer
Neuroimaging can confirm central nervous system (CNS) involvement. MRI has been reported to be superior to CT scanning in detecting the malformations affecting the CNS in SWS. However, the diagnosis is often obvious on plain skull radiography.
MRI allows recognition of abnormalities, including abnormal venous drainage and abnormal pial contrast enhancement, associated with the SWS angiomatous malformation that can confirm the diagnosis, even in very young children.
MRI also demonstrates cerebral volume reduction and ipsilateral choroid plexus enlargement. In addition, intravenous contrast can demonstrate the curvilinear posterior contrast enhancement of ocular choroidal angiomas. (See the images below.)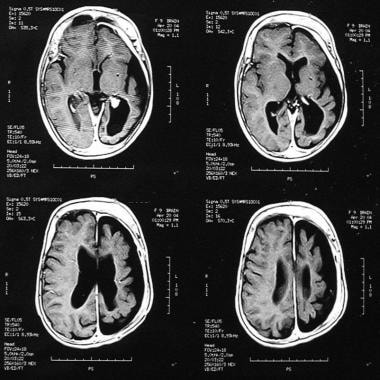 T1-weighted, axial magnetic resonance imaging (MRI) scans demonstrate left cerebral hemiatrophy associated with leptomeningeal angiomatosis. Image courtesy of Dr. Lamia Salah Elewa.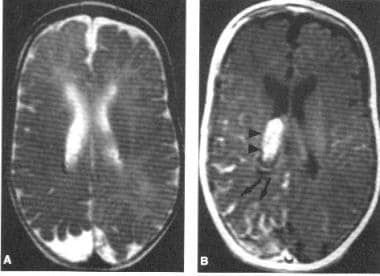 MRI image in Sturge-Weber syndrome.
On the other hand, CT scanning is superior to MRI in detecting tram-track calcifications. However, these calcifications are usually not detectable before age 1 year and may not be seen for several years.
---
Did this answer your question?
Additional feedback? (Optional)
Thank you for your feedback!