Answer
CT scans may show calcifications in infants and even in neonates, with SWS; other findings include the following:
Ipsilateral choroid plexus enlargement

Breakdown of the blood-brain barrier with seizures
In a study of CT scans in 14 children with SWS, conducted by Terdjman et al, cortical calcifications were present in 12 patients (see the image below), localized atrophy had occurred in 10 patients, and enlargement of the choroid plexus and abnormal veins were found in 7 patients each. [61]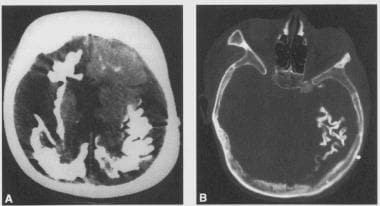 Cranial CT scan showing calcifications.
---
Did this answer your question?
Additional feedback? (Optional)
Thank you for your feedback!