Answer
Diffuse choroidal hemangioma is present in as many as 40-50% of patients with SWS. A circumscribed, isolated form occurs in otherwise normal adults. It is almost always unilateral and ipsilateral to the PWI, but bilateral cases associated with bilateral nevus flammeus have been described. (See the image below.)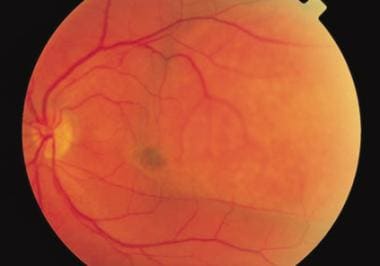 Circumscribed hemangioma. Image courtesy of F. Ryan Prall, MD.
Choroidal hemangiomas are flat, commonly covering over one half of the fundus, involving the posterior pole, and extending into the equatorial zone. Diffuse involvement of the entire uvea may be seen. In some cases, the extent and character of the pathognomonic choroidal vascular lesion results in a striking reddish glow, to which the descriptive term tomato-catsup fundus has been applied (see the images below). Some patients have a focal area (often paramacular) where the angioma is more thickened and elevated.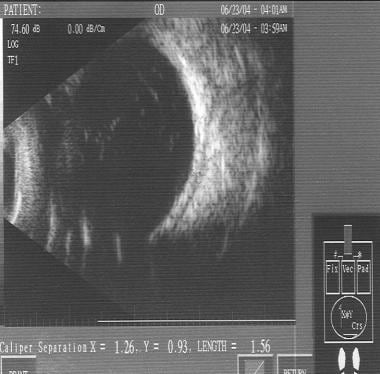 Ocular ultrasonogram of the posterior segment demonstrating the diffuse choroidal thickening seen in a diffuse choroidal hemangioma with "tomato-catsup fundus." Image courtesy of Dr. Lamia Salah Elewa.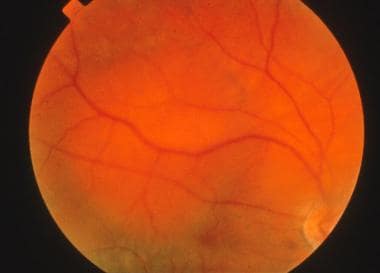 Choroidal hemangioma. Image courtesy of Thomas M. Aaberg, Jr, MD.
The choroidal angiomatosis grows slowly and usually remains asymptomatic in childhood. During adolescence or adulthood, marked thickening of the choroid sometimes becomes evident with secondary changes to overlying ocular structures.
---
Did this answer your question?
Additional feedback? (Optional)
Thank you for your feedback!