Answer
SWS is referred to as complete when both CNS and facial angiomas are present, and incomplete when only the face or CNS is affected. The Roach Scale is used for classification, as follows [12] :
Type I - Facial and leptomeningeal angiomas; patient may have glaucoma

Type II - Facial angioma alone (no CNS involvement); patient may have glaucoma

Type III - Isolated LA; usually no glaucoma
Examples of ocular manifestations of SWS are shown in the images below.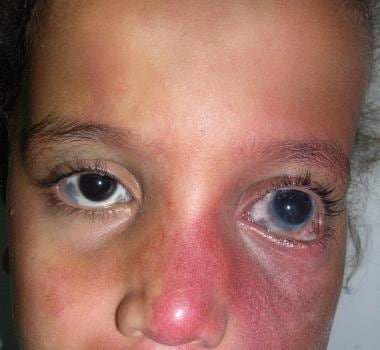 A child with Sturge-Weber syndrome that primarily affects the distribution of cranial nerve V2-3, with milder involvement of cranial nerve V1. Secondary glaucoma is evident. Ocular melanocytosis involving the sclera of both eyes is an associated finding. Image courtesy of Dr. Lamia Salah Elewa.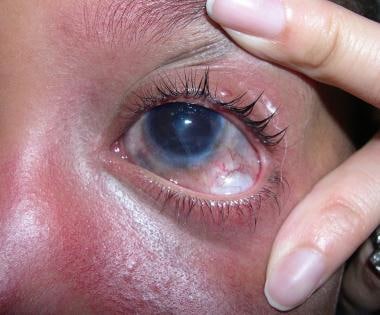 Close-up view of the left eye, showing the Ahmed valve implanted in the inferotemporal quadrant after multiple failed filtration procedures induced severe superior conjunctival scarring. Intraocular pressure (IOP) was controlled. Image courtesy of Dr. Lamia Salah Elewa.
---
Did this answer your question?
Additional feedback? (Optional)
Thank you for your feedback!