Answer
The hallmark of SWS is a facial cutaneous venous dilation, also referred to as a nevus flammeus or port-wine stain (PWS), which is present in as many as 96% of patients and is visible at birth (see the image below). The facial venous dilation appears as 1 or several dull red patches of irregular outline that are situated along, but are not limited to, the distribution of 1 or more divisions of the trigeminal nerve. [6, 7, 8] SWS belongs to a group of disorders collectively known as the phakomatoses ("mother-spot" diseases). (See Pathophysiology and Clinical Presentation.)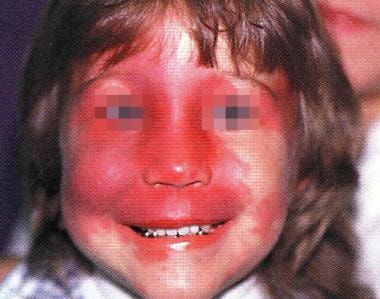 A child with Sturge-Weber syndrome with bilateral facial port-wine stain.
Laser therapy is available for the PWS. Although concerns have been raised that laser therapy to treat PWS might cause or worsen glaucoma or ocular hypertension; a 2009 retrospective review did not reveal evidence to support this. (See Treatment.) [2]
---
Did this answer your question?
Additional feedback? (Optional)
Thank you for your feedback!