Answer
Interictal EEG is characterized by a slow background that can be constant or transient. Permanent slowing of the background is associated with poor cognitive prognosis.
The hallmark of the awake interictal EEG in patients with LGS is the diffuse slow spike wave (see the image below). This pattern consists of bursts of irregular and generalized spikes or sharp waves followed by a sinusoidal 35-400-millisecond slow wave with an amplitude of 200-800 microvolts, which can be symmetric or asymmetric.
The amplitude often is higher in the anterior region or in the frontal or frontocentral areas, but in some patients the activity may dominate in the posterior head regions. The frequency of the slow spike wave activity commonly is found at 1.5-2.5 Hz.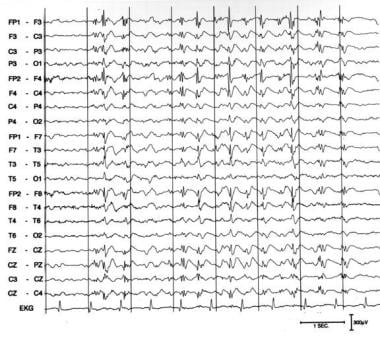 Slow spike wave pattern in a 24-year-old awake male with Lennox-Gastaut syndrome. The slow posterior background rhythm has frequent periods of 2- to 2.5-Hz discharges, maximal in the bifrontocentral areas, occurring in trains as long as 8 seconds without any clinical accompaniment.
Slow spike waves usually are not activated by photic stimulation. Hyperventilation rarely induces slow spike waves, although mental retardation prevents adequate cooperation in many patients. During non–rapid eye movement (REM) sleep, discharges are more generalized, more frequent, and consist of polyspikes and slow waves. In REM sleep, spike waves decrease. During periods of frequent seizures, the total duration of REM sleep is reduced.
---
Did this answer your question?
Additional feedback? (Optional)
Thank you for your feedback!