Answer
Lennox-Gastaut syndrome (LGS), or childhood epileptic encephalopathy, is a pediatric epilepsy syndrome characterized by multiple seizure types; mental retardation or regression; and abnormal findings on electroencephalography (EEG). See the image below.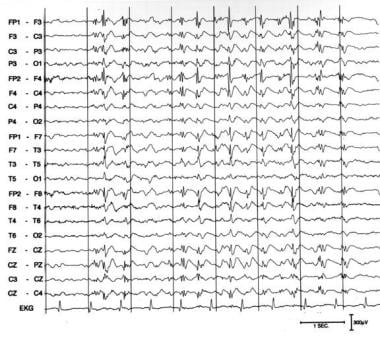 Slow spike wave pattern in a 24-year-old awake male with Lennox-Gastaut syndrome. The slow posterior background rhythm has frequent periods of 2- to 2.5-Hz discharges, maximal in the bifrontocentral areas, occurring in trains as long as 8 seconds without any clinical accompaniment.
---
Did this answer your question?
Additional feedback? (Optional)
Thank you for your feedback!