Answer
Radiographs of the long bones in growing children may reveal the characteristic lead lines. These lines, actually growth arrest lines, are not pathognomonic but are associated with BLLs higher than 40 µg/dL over a protracted period (see the image below). A radiodensity in the distal metaphyseal plate is a frequent occurrence in children with chronic lead poisoning of a moderate degree. These findings are unlikely to be observed in adults.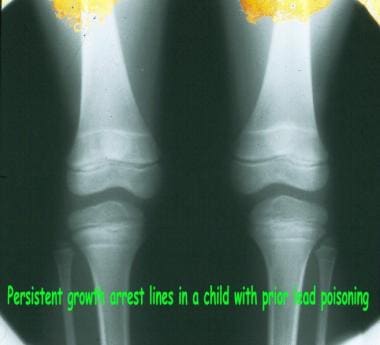 Growth arrest lines, also known as lead lines, in bones of child who recovered from lead poisoning.
The classic findings of lead lines on radiographs of long bones are rarely seen, because most cases of lead poisoning in children are due to exposures to low or moderate amounts of lead. Obtaining radiographs in search of lead lines is not recommended by the CDC.
---
Did this answer your question?
Additional feedback? (Optional)
Thank you for your feedback!