Answer
Lead toxicity causes a hypochromic microcytic anemia and basophilic stippling of red blood cells. Hypochromia and microcytosis are typically seen in iron-deficiency anemia, which often coexists with lead toxicity. Assessing iron storage status (ferritin) in all cases of lead poisoning is important. In pregnant women, some evidence suggests that lead also causes a decrease in erythropoietin production and a depression in red blood cell (RBC) production. Lead is a surface-acting poison and may produce increased RBC fragility and acute hemolytic anemia (see the image below).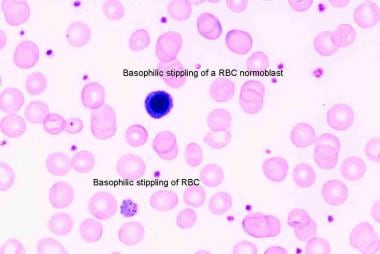 Peripheral smear taken from 8-year-old Pakistani girl who presented with acute hemolytic anemia and lead level of 125 µg/dL.
---
Did this answer your question?
Additional feedback? (Optional)
Thank you for your feedback!