Answer
Subtle changes in cognitive performance are not identified easily on physical examination. Careful mental status examination may detect changes in more severe cases, while formal neuropsychological testing may be needed to detect changes in other cases.
A child with lead toxicity is frequently iron deficient and pale because of anemia. The child may be either hyperactive or lethargic.
Impaired fine-motor coordination [21] or subtle visual-spatial impairment may be seen. In adults, chronic distal motor neuropathy (eg, foot drop or wrist drop) may be seen with decreased reflexes and weakness of extensor muscles; sensory function is relatively spared (see the image below). This is a classic, though not very common, presentation of occupational lead toxicity.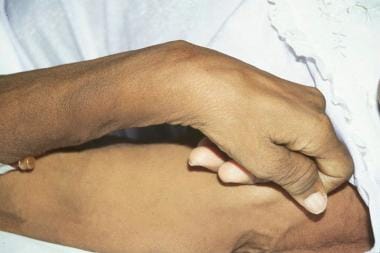 Wrist drop in adult with lead poisoning and renal failure.
It is important to evaluate the patient for papilledema, cranial nerve abnormalities, and signs of increased intracranial pressure (ICP). Cranial nerve involvement, particularly involvement of the optic nerve, is not uncommon. Chronic lead exposure has been shown to cause optic neuritis and blindness. [22]
Lead lines appearing on gingival tissue (see the image below) are very unusual in children. The dentition of children does not promote poor enough hygiene to produce pyorrhea and the subsequent precipitation of lead sulfide. Adults with poor dental hygiene may demonstrate this characteristic finding in any heavy metal poisoning.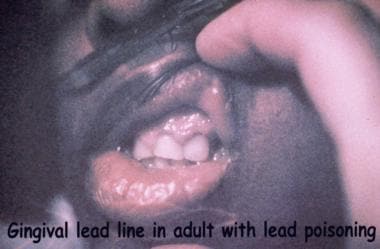 Lead line on gingival border of adult with lead poisoning.
A report indicates that relative hypertension is related to elevated lead levels, but this finding has never been duplicated.
Lead exposure can precipitate a gout attack. The patient should be observed for joint changes suggestive of acute arthritis. In patients with history of penetrating or military trauma, gunshot wounds must be identified.
---
Did this answer your question?
Additional feedback? (Optional)
Thank you for your feedback!