Answer
Answer
MRI is the imaging modality of choice (see the image below). According to one study, serial brain imaging is of value because a substantial proportion of patients have normal findings on initial MRI. [13] Typically, T2-weighted MRI images demonstrate hyperintense or bright areas where demyelination has occurred and has been caused by relatively increased water content in those regions. MRI or CT imaging of the brain stem may not reveal an obvious anatomic disturbance. A thorough neurologic exam therefore is indispensable. [14]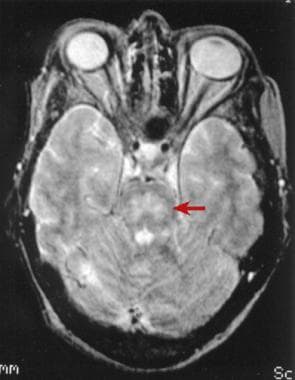 T2-weighted MRI scan of the brain demonstrating patchy areas of signal change within the pons that are consistent with demyelination or central pontine myelinolysis. Courtesy of Dr Andrew Waclawik, Department of Neurology, University of Wisconsin, Madison.
---
Did this answer your question?
Additional feedback? (Optional)
Thank you for your feedback!