Answer
Nerve conduction study (NCS) with needle electromyography (EMG) is essential in demonstrating the presence of multifocal motor involvement without significant sensory component. [14] When MMN is defined clinically, some patients may not have demonstrable conduction block on conventional NCS.
NCS of motor nerves shows multifocal conduction block. Other signs of demyelination may be present, including decreased velocities, prolonged terminal latencies, temporal dispersion, and delayed (or absent) F waves. Sensory NCS findings are normal, even across the same segments with demonstrated motor conduction block. Additionally, electrodiagnostic evidence of axonal degeneration has been demonstrated in at least one nerve from as many as 50% of patients.
Conduction block (see image below) is indicative of focal demyelination and has been variably defined as a 15-50% reduction of the compound muscle action potential (CMAP) at proximal compared to distal sites of stimulation. Testing of multiple segments in several nerves may be required to demonstrate conduction block, and spinal root needle stimulation may be helpful to demonstrate proximal conduction block. The site of the conduction block should not be at a common nerve entrapment site. See the image below.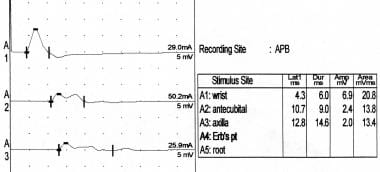 Nerve conduction studies demonstrating conduction block with temporal dispersion after proximal stimulation.
Unlike ALS, needle EMG in MMN does not reveal the presence of widespread fibrillations, even though fasciculations and myokymia may be observed. Recruitment may be decreased as a result of conduction block, without significant changes in motor unit potential morphology.
---
Did this answer your question?
Additional feedback? (Optional)
Thank you for your feedback!