Answer
A full discussion of electrodiagnostic approaches to myopathy is beyond the scope of this article. The reader is referred to a more extensive discussion. Pictures of some needle electrode examination findings are given at the end of the article.
The needle electrode examination aims at demonstrating the presence of a diffuse myopathic process. Conversely, the assumption should not be made that all muscles are affected equally (ie, side-to-side asymmetry, proximal versus distal muscle).
The presence of a polyneuropathy on nerve conduction studies should prompt caution in interpretation since 2 different processes may be occurring simultaneously (eg, denervation/reinnervation and myopathy).
Therefore, the study's focus should be primarily on weak proximal muscles in 3 extremities, where changes in the MUAPs would most likely reveal changes consistent with a myopathic process. The muscle to be biopsied should be avoided in the needle electrode examination.
Insertional activity is variable (ie, normal or mildly increased) but does not show the prominent, complex, repetitive, or myotonic discharges occasionally seen in polymyositis.
Spontaneous activity is present in the form of fibrillation potentials or positive sharp waves. In chronic cases, these may be low in amplitude and infrequent or absent.
In s-IBM, the MUAPs may be variable in shape and size within the same muscle. See the image below.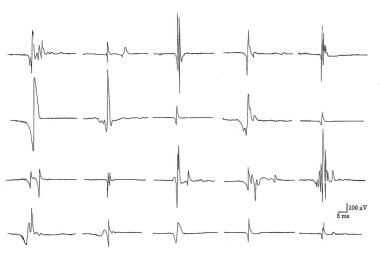 Composite of 20 motor unit action potentials (MUAPs) recorded with a concentric needle electrode from the biceps brachii of a patient with s-IBM. Note the wide range in size and complexity in the MUAPs. Copyright, Paul E Barkhaus, MD, 2000, with permission.
---
Did this answer your question?
Additional feedback? (Optional)
Thank you for your feedback!