Answer
Gynecomastia is probably the most common nonneurologic finding on examination, but it is not a criterion for diagnosis (see image below).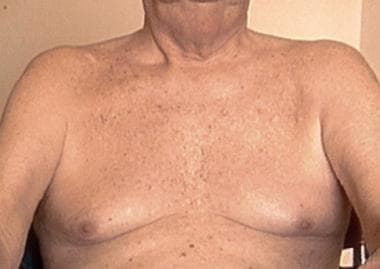 Prominence of breast tissue consistent with gynecomastia in Kennedy disease.
Testicular atrophy, oligospermia and/or azoospermia, and erectile dysfunction may be present and typically occur in advanced cases.
In a clinical study, Sinclair et al found that men with KD may have a reduced risk of androgenetic alopecia compared with a cohort of white males of European descent without KD. [57]
---
Did this answer your question?
Additional feedback? (Optional)
Thank you for your feedback!