Answer
Clinical features include asymmetrical proximal or distal atrophy of a single upper or lower limb; fasciculations; absence of sensory, bulbar, or pyramidal signs; and no history of polio.
Typically, the patient or the patient's family note rather abrupt unilateral weakness and atrophy of the hand and forearm muscles (C8, T1, and less often C7). Oblique atrophy, where a normal brachioradialis (C5/C6) dominates the atrophied forearm, is a characteristic feature (see image below). Sensation is normal, DTRs are normal, and no pyramidal signs are present.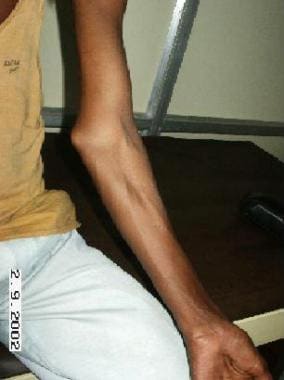 Clinical photograph of a subject with monomelic amyotrophy showing wasting of left forearm. Note the characteristic feature of oblique atrophy, where a normal brachioradialis dominates the atrophied forearm.
Despite marked wasting, patients may have little to no weakness.
Electrophysiologic, radiologic, and muscle histopathologic findings indicate a chronic focal anterior horn cell disease.
In the early stages of the disease, no clinical or laboratory findings distinguish it from motor neuron disease. Prolonged observation may be required to confirm the diagnosis.
---
Did this answer your question?
Additional feedback? (Optional)
Thank you for your feedback!