Answer
Answer
CT scan is acceptable as a screening study, but MRI, with and without contrast, is the preferred imaging modality. CT scan findings may be nonspecific or normal. Cryptococcal pseudocysts may appear as nonenhancing, hypodense lesions on CT scan.
With MRI, T1-weighted images may show low-intensity lesions in the basal ganglia, which are hyperintense on T2-weighted images and may enhance with gadolinium.
Twenty to thirty percent of patients show meningeal enhancement, parenchymal solid mass lesion without hemorrhage (granuloma), atrophy, cerebral edema, or hydrocephalus (see the image below). Commonly, in patients with increased intracranial pressure, the ventricles are small. If the imaging studies show a cryptococcal mass lesion (ie, cryptococcoma), toxoplasmosis and lymphoma must be considered in the differential diagnosis; brain biopsy may be indicated.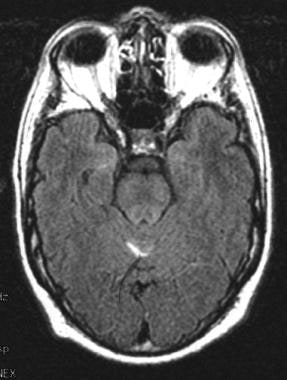 This image shows meningeal enhancement in a patient with cryptococcal meningitis.
---
Did this answer your question?
Additional feedback? (Optional)
Thank you for your feedback!