Answer
Ramsay Hunt syndrome is defined as an acute peripheral facial neuropathy associated with erythematous vesicular rash of the skin of the ear canal, auricle (also termed herpes zoster oticus), and/or mucous membrane of the oropharynx.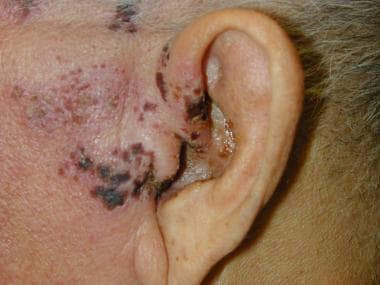 Herpes zoster oticus, day 6. Image courtesy of Manolette Roque, MD, ROQUE Eye Clinic.
This syndrome is also known as geniculate neuralgia or nervus intermedius neuralgia. Ramsay Hunt syndrome can also occur in the absence of a skin rash, condition known as zoster sine herpete. [1]
Ramsay Hunt syndrome was first described in 1907 by James Ramsay Hunt in a patient who had otalgia associated with cutaneous and mucosal rashes, which he ascribed to infection of the geniculate ganglion by human herpesvirus 3 (ie, varicella-zoster virus [VZV]). [2]
---
Did this answer your question?
Additional feedback? (Optional)
Thank you for your feedback!