Answer
MRI with contrast is preferred to CT scanning, because MRI better demonstrates meningeal lesions, cerebral edema, and cerebral ischemia. T1 may show obliterated cisterns. Contrast enhances the cisterns, and extension of enhancing subarachnoid exudate deep into the sulci may be seen in severe cases.
Strokes can be seen with the development of vasculitis and cerebritis. CNS complications that can be visualized with MRI include hydrocephalus, aqueductal obstruction, ventriculitis (especially in neonates), choroid plexitis, subdural effusion, and empyema.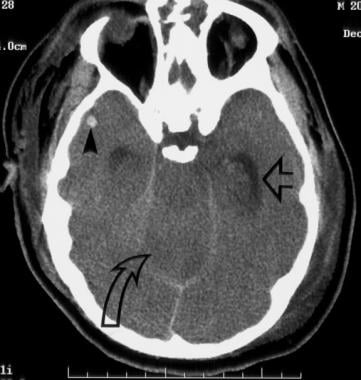 Head CT demonstrates enlargement of the temporal horns indicating increased intracranial pressure (horizontal open large arrow). The closed arrowhead shows small intracerebral hemorrhage foci on the right temporal lobe, and the curved arrow shows the effect of increased intracranial pressure on the cerebellum.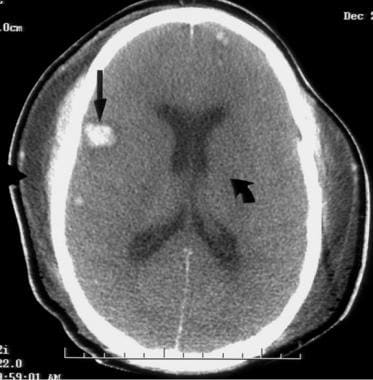 Head CT shows small intracerebral hemorrhage foci (vertical closed arrow). Basal ganglia can also not be visualized because of diffuse edema (oblique closed arrow). The black arrow head on the left shows soft tissue edema.
---
Did this answer your question?
Additional feedback? (Optional)
Thank you for your feedback!