Answer
Head CT scan findings are usually normal but may reveal signs of intracranial hypertension, edema, and intracerebral hemorrhage. In several parts of the world, imaging is an important cause of delay of therapy. In the US, due to the large availability of brain imaging, the performance of a head CT scan is mandatory. In other countries, this rule is relaxed, and indications for performing CT scanning prior to lumbar puncture include altered level of consciousness, papilledema, focal neurological deficits, and/or focal or generalized seizure activity.
The image below depicts intracerebral hemorrhage foci and diffuse edema in a patient with meningitis.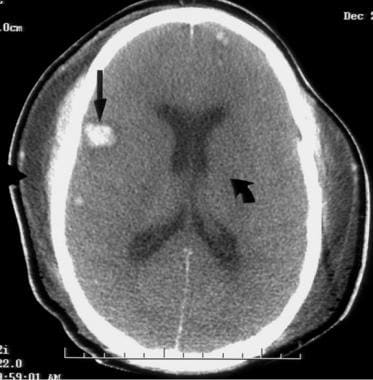 Head CT shows small intracerebral hemorrhage foci (vertical closed arrow). Basal ganglia can also not be visualized because of diffuse edema (oblique closed arrow). The black arrow head on the left shows soft tissue edema.
---
Did this answer your question?
Additional feedback? (Optional)
Thank you for your feedback!