Answer
Morbidity and mortality rates from the disease remain high. Apart from epidemics, at least 1.2 million cases of bacterial meningitis are estimated to occur every year; 135,000 of them are fatal. Approximately 500,000 of these cases and 50,000 of the deaths are due to meningococci.
Early complications of bacterial meningitis include seizures, raised intracranial pressure (seen in the image below), cerebral venous thrombosis, sagittal sinus thrombosis, and hydrocephalus. The risk of cerebral herniation from acute meningitis is about 6-8%.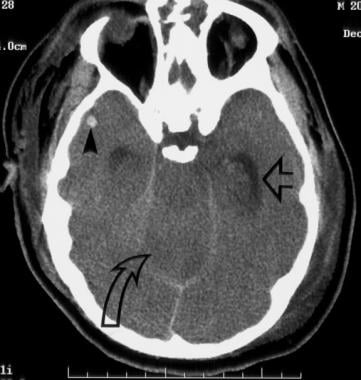 Head CT demonstrates enlargement of the temporal horns indicating increased intracranial pressure (horizontal open large arrow). The closed arrowhead shows small intracerebral hemorrhage foci on the right temporal lobe, and the curved arrow shows the effect of increased intracranial pressure on the cerebellum.
In fulminant meningococcemia, severe disseminated intravascular coagulation (DIC) may develop, leading to hemorrhagic diathesis with bleeding into the lungs, urinary tract, and gastrointestinal tract. Ischemic complications of DIC also are common.
Infrequent suppurative complications include septic arthritis, purulent pericarditis, endophthalmitis, and pneumonia. Of survivors, 10% developed allergic complications manifested as cutaneous vasculitis or arthritis.
Late complications may include communicating hydrocephalus (which can present with gait difficulty, mental status changes, and incontinence) and hearing loss. [7]
In one study, 27% of survivors experienced 1 or more suppurative, allergic, or neurologic complications, including hearing loss, cutaneous vasculitis, and arthritis.
Hearing loss, noted in 9% of children, occurred significantly more often in patients with marked leukocytosis or leukopenia or with cerebrospinal fluid (CSF) leukocytosis greater than 10 X 109/L.
The Waterhouse-Friderichsen syndrome may develop in 10-20% of children with meningococcal infection. This syndrome is characterized by large petechial hemorrhages in the skin and mucous membranes, fever, septic shock, and DIC.
Even when the disease is diagnosed early and adequate therapy is instituted, the case-fatality rate in meningococcal meningitis ranges from 5-10%; it may exceed 40% in patients with meningococcal sepsis.
In a review of 493 episodes of bacterial meningitis in adults, the overall case-fatality rate was 25%. In another study, patients with meningococcal meningitis had a case-fatality rate of 7.5%. [8]
In developing countries, the mortality rate from bacterial meningitis is often higher (20-40%) than in developed countries.
Among those who survive the meningococcal disease, 10-20% experience neurologic sequelae.
A cohort study from Netherlands (the Meningitis Cohort Study) revealed a 7% mortality rate and an unfavorable outcome in 12% of the cases. [9]
---
Did this answer your question?
Additional feedback? (Optional)
Thank you for your feedback!