Answer
Meningococcal meningitis (International Classification of Disease-9 [ICD-9] code: 036.0) has been recognized as a serious problem for almost 200 years. It was first identified definitely by Vieusseux in Geneva in 1805.
The causative organism, Neisseria meningitidis, is a gram-negative, aerobic, encapsulated diplococcus that grows best on enriched media, such as Mueller-Hinton or chocolate agar, at 37°C and in an atmosphere of 5-10% carbon dioxide.
Meningococcal disease still is associated with a high mortality rate and persistent neurologic defects, particularly among infants and young children.
The first successful treatment of meningitis with intravenous and intrathecal penicillin was reported in 1944, and the first clinical trials using high doses of intravenous penicillin as monotherapy for the treatment of meningitis were reported in 1950. Since then, penicillin has remained the drug of choice for the treatment of meningococcal meningitis. [4] However, current IDSA guidelines list ceftriaxone or cefotaxime as the drugs of choice.
The image below shows indications of increased intracranial pressure, an early complication of bacterial meningitis.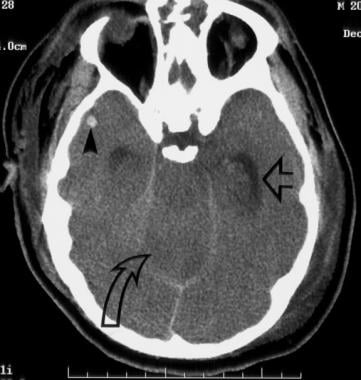 Head CT demonstrates enlargement of the temporal horns indicating increased intracranial pressure (horizontal open large arrow). The closed arrowhead shows small intracerebral hemorrhage foci on the right temporal lobe, and the curved arrow shows the effect of increased intracranial pressure on the cerebellum.
---
Did this answer your question?
Additional feedback? (Optional)
Thank you for your feedback!