Answer
Most patients with meningococcal meningitis, caused by the gram-negative diplococcus Neisseria meningitidis, recover completely if appropriate antibiotic therapy is instituted promptly. Nonetheless, the disease still is associated with a high mortality rate and persistent neurologic defects, particularly among infants and young children.
The image below shows indications of increased intracranial pressure, an early complication of bacterial meningitis.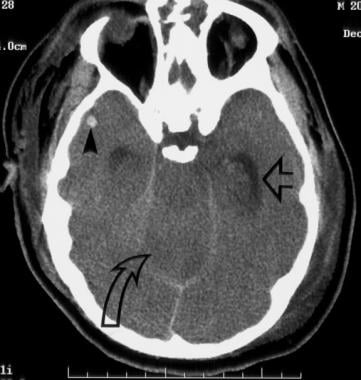 Head CT demonstrates enlargement of the temporal horns indicating increased intracranial pressure (horizontal open large arrow). The closed arrowhead shows small intracerebral hemorrhage foci on the right temporal lobe, and the curved arrow shows the effect of increased intracranial pressure on the cerebellum.
---
Did this answer your question?
Additional feedback? (Optional)
Thank you for your feedback!