Answer
Magnetic resonance imaging (MRI) of the brain is the preferred imaging study. Proton-density and T2 images may be more helpful than T1 images. MRI can noninvasively establish many of the potential alternative diagnoses of HSE.
Abnormalities are found in 90% of patients with HSE; MRI may be normal early in the course of illness. Temporal lobe involvement (see the images below), sometimes hemorrhagic, and early involvement of white matter are typical. The inferomedial portion of the temporal lobe is most commonly affected on MRI, sometimes in association with abnormalities of the cingulate gyrus.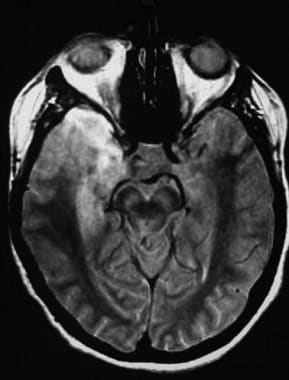 Axial proton density-weighted image in 62-year-old woman with confusion and herpes encephalitis shows T2 hyperintensity involving right temporal lobe.
Axial gadolinium-enhanced T1-weighted image reveals enhancement of right anterior temporal lobe and parahippocampal gyrus. At right anterior temporal tip is hypointense, crescentic region surrounded by enhancement consistent with small epidural abscess.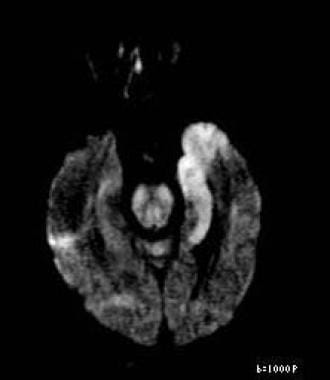 Axial diffusion-weighted image reveals restricted diffusion in left medial temporal lobe consistent with herpes encephalitis. This patient also had positive result on polymerase chain reaction assay for herpes simplex virus, which is both sensitive and specific. In addition, patient had periodic lateralized epileptiform discharges on electroencephalography, which supports diagnosis of herpes encephalitis.
Findings of localized temporal abnormalities are highly suggestive of HSE, but again, confirmation of the diagnosis depends on the identification of herpes simplex virus (HSV) by means of PCR or brain biopsy.
---
Did this answer your question?
Additional feedback? (Optional)
Thank you for your feedback!