Answer
Herpes simplex encephalitis (HSE) is an acute or subacute illness that causes both general and focal signs of cerebral dysfunction. Brain infection is thought to occur by means of direct neuronal transmission of the virus from a peripheral site to the brain via the trigeminal or olfactory nerve. The exact pathogenesis is unclear, and factors that precipitate HSE are unknown. See the image below.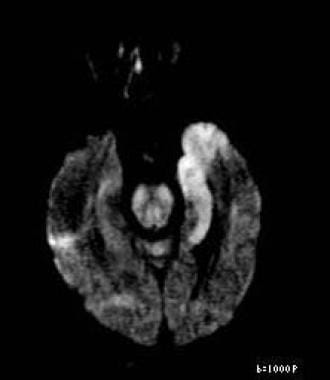 Axial diffusion-weighted image reveals restricted diffusion in left medial temporal lobe consistent with herpes encephalitis. This patient also had positive result on polymerase chain reaction assay for herpes simplex virus, which is both sensitive and specific. In addition, patient had periodic lateralized epileptiform discharges on electroencephalography, which supports diagnosis of herpes encephalitis.
See Herpesviruses: Test Your Knowledge, a Critical Images slideshow, for more information on clinical, histologic, and radiographic imaging findings in HSV-1 and HSV-2.
---
Did this answer your question?
Additional feedback? (Optional)
Thank you for your feedback!