Answer
The approach to treatment of motor focal SE—specifically, epilepsy partialis continua—is similar to that with generalized convulsive SE. However, the urgency of treatment and the extremes to which a physician may elect to go to terminate the seizure are tempered.
The basic principles of emergency care (ie, attention to airway, breathing, and circulation [ABCs] apply to focal as well as to generalized SE. Although generalized convulsive SE frequently jeopardizes the ABCs, epilepsy partialis continua only infrequently does so.
See the image below for management algorithms for convulsive status epilepticus.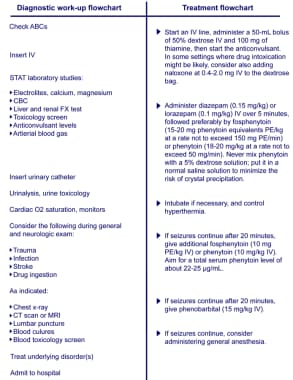 Treatment algorithms for convulsive status epilepticus.
---
Did this answer your question?
Additional feedback? (Optional)
Thank you for your feedback!