Answer
Status epilepticus (SE) is a common, life-threatening neurologic disorder that is essentially an acute, prolonged epileptic crisis (see the image below). SE can represent an exacerbation of a preexisting seizure disorder or the initial manifestation of a seizure disorder (epilepsy), or it can represent an insult other than a seizure disorder. Among such insults, SE can occur in the context of an acute cerebral injury, or be due to a systemic process or illness, in a patient with or without a remote cerebral injury. In patients with known epilepsy, the most common cause of SE is a change in medication. Most seizures terminate spontaneously; SE represents a failure of seizure termination.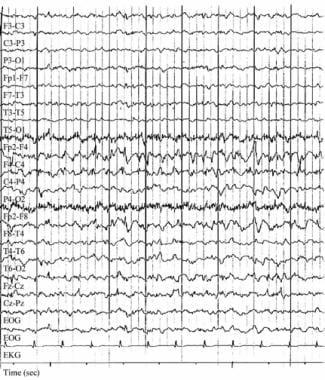 Focal status epilepticus. Electroencephalograph (EEG) in a patient with epilepsia partialis continua caused by Rasmussen encephalitis before hemispherectomy. The patient had long-standing, intractable partial epilepsy since the first decade of life. Seizures included complex partial with occasional secondary generalization and repetitive myoclonus involving the left side of the body. Note the frequent epileptiform discharges at 1-2 Hz involving the right frontocentral channels. These were evident on many of the patient's routine EEGs. Clinical myoclonus is often correlated with high-voltage bursts of such activity.
---
Did this answer your question?
Additional feedback? (Optional)
Thank you for your feedback!