Answer
Histologic findings are appropriate to the pathologies outlined in the preceding section. See the image below for a spinal cord transverse section.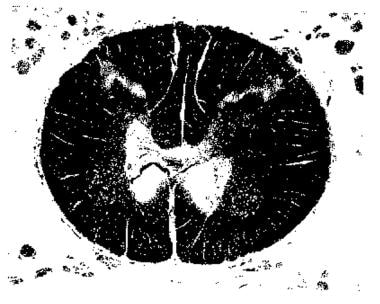 Transverse section of spinal cord at T12-L1 showing infarction of central cord. The patient became paraplegic following resection of a ruptured abdominal aortic aneurysm. During surgery, prolonged occlusion of the abdominal aorta and great anterior radicular artery was necessary.
---
Did this answer your question?
Additional feedback? (Optional)
Thank you for your feedback!