Answer
Neurologic dysfunction usually (ie, in approximately 95% of reported cases) stems from a lesion located in the anterior two thirds (or in the central "watershed") of the spinal cord and spares vibration and position sense perception, which are carried by the posterior columns and are relatively spared. The images below depict sensory pathways in the spinal cord and vascular anatomy of the spinal cord in the axial plane.
Simplified representation of course of major sensory pathways in the spinal cord. Decussation of the spinothalamic tracts occurs within one or two segments of their entry.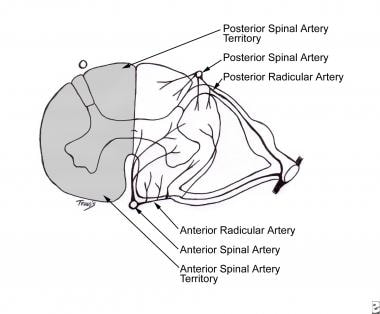 Pattern of arterial supply to spinal cord and (left) territories of the anterior and posterior spinal arteries.
In the acute stage (usually for several days),"spinal shock" with flaccid muscle tone and areflexia, including absent Babinski reflexes, is observed commonly.
The classic presentation is a sensory pattern distal to the lesion, superficial pain and temperature discrimination are lost bilaterally with relative preservation of light touch, vibration, and position sense. The image below provides a guide for clinical determination of spinal level.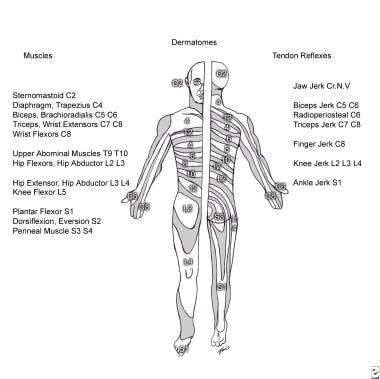 Guide to clinical determination of the segmental spinal cord level.
Weakness and sensory loss (for all primary sensory modalities) are found at the spinal cord segmental levels of the spinal cord infarct.
---
Did this answer your question?
Additional feedback? (Optional)
Thank you for your feedback!