Answer
Spinal cord infarction is usually marked by an acute onset, often heralded by sudden and severe spinal (back) pain, which may radiate caudad. This is associated with bilateral weakness, paresthesias, and sensory loss. Loss of sphincter control with hesitancy and inability to void or defecate becomes evident within a few hours.
The spinal cord stroke, either ischemic or hemorrhagic, has an acute and often apoplectic onset evolving over minutes. This is emphasized because many of the confounding diagnoses, including acute transverse myelopathy, viral myelitis, Guillain-Barré syndrome, and mass lesions in the spinal canal, develop over 24-72 hours with an acute but discernibly slower evolution than the vascular lesions. Reports emphasize the occasional confusion of this diagnosis with angina pectoris or acute myocardial infarction. [3, 4]
Neurologic deficit may occur without pain, but most (>80%) spinal infarcts are painful. This is an interesting and unexplained difference from cerebral infarction, which is usually not painful. The mimic of coronary ischemia is seen because of the occurrence of chest pain, which may be severe.
Uncomplicated spinal cord infarction is most commonly thoracic (with peak at T8 in the series reported by Cheshire), [1] and presents as acute paraparesis or paraplegia, numbness of the legs, and inability to void. [4]
The syndrome depends on the level of the cord lesion and may vary from mild or moderate and even reversible leg weakness to quadriplegia. A guide to determine the spinal cord level is below.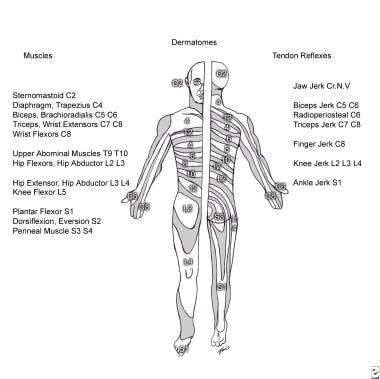 Guide to clinical determination of the segmental spinal cord level.
Fever is a warning ("red flag"); heed this warning by considering infectious origins of a spinal cord syndrome, particularly acute bacterial meningitis, and focal extramedullary spinal lesions (eg, epidural and subdural abscess, granuloma) and viral myelitis due to herpes simplex, varicella-zoster, and other viruses.
Many reports exist, and these are usually of single or a few cases of spinal cord infarction occurring in context of and classed as complications of surgical procedures in which hypotension and prolonged positioning (eg, seated neurosurgical approaches, hyperlordosis) may be prominent factors. Also, aortic surgeries, injections for foraminal nerve block for epidural anesthesia, or even self-injection by the addict seeking an intravenous access [4, 5, 6, 7, 8, 9] have been reported in association with and probably causative of spinal cord infarction.
---
Did this answer your question?
Additional feedback? (Optional)
Thank you for your feedback!