Answer
The anterior spinal artery is a single long anastomotic channel that lies at the mouth of the anterior central sulcus and supplies the circulation to the anterior two thirds of the spinal cord, shown below.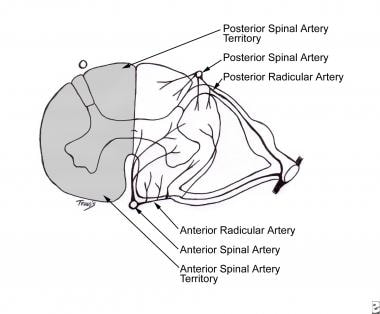 Pattern of arterial supply to spinal cord and (left) territories of the anterior and posterior spinal arteries.
It gives origin to sulcal arteries that take an arching course to one or the other anterior gray horns. The posterior spinal arteries are smaller paired arteries lying just medial to the dorsal roots. The arterial supply of the spinal cord arises from the aorta and at its cephalad and caudal ends from tributaries of the subclavian and iliac arteries. Eight to ten unpaired anterior medullary arteries are branches of the larger afferent aorta and vertebral and iliac arteries. The largest anterior medullary artery, the great anterior medullary artery of Adamkiewicz, which is susceptible to occlusion with neurologic deficit, is located at the lumbar enlargement, usually at L2 on the left side (but may be at any point from T8 to L2).
---
Did this answer your question?
Additional feedback? (Optional)
Thank you for your feedback!