Answer
Occlusive vascular lesions affecting the spinal cord (spinal stroke) are diagnostic challenges. As is the case for the more common cerebrovascular accident affecting cerebral circulation, an acute onset is a clue to the diagnosis. The circulation to the spinal cord has unique features related to the rich anastomotic anatomy of the cord that result in relative rarity of spinal cord infarction in comparison to cerebral infarction, as described in the images below.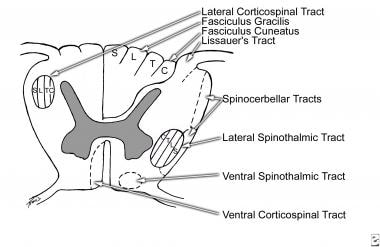 Transverse section of spinal cord showing location of main pathways. The lamination of fibers in posterior columns and in lateral spinothalamic and lateral corticospinal tracts is indicated (C, cervical; T, thoracic; L, lumbar; S, sacral).
Simplified representation of course of major sensory pathways in the spinal cord. Decussation of the spinothalamic tracts occurs within one or two segments of their entry.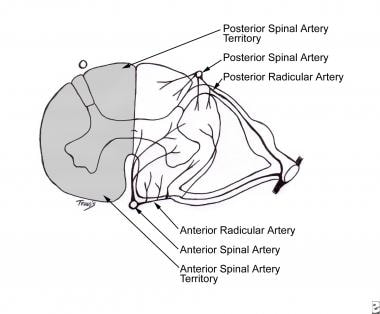 Pattern of arterial supply to spinal cord and (left) territories of the anterior and posterior spinal arteries.
---
Did this answer your question?
Additional feedback? (Optional)
Thank you for your feedback!