Answer
Surgical vascular reconstruction of renal FMD has met with good success. [13] However, because the end organ of cervicocranial FMD is the brain, more serious risks are involved. Thus, the role of surgery in carotid and vertebrobasilar FMD is not well understood.
Although medical management of stroke prophylaxis in FMD is quite similar to the management of atherosclerotic disease, the lesions in FMD are not amenable to endarterectomy. Thus, surgical management is used as a last resort in cases where stenosis is critical and global cerebral hypoperfusion is an issue or for ischemic events refractory to medical management. No trials exist comparing medical and surgical management of cerebrovascular FMD. However, many authors have published series of operative graduated dilatation of FMD stenosis and report good results. [32, 33, 34] (See images below.)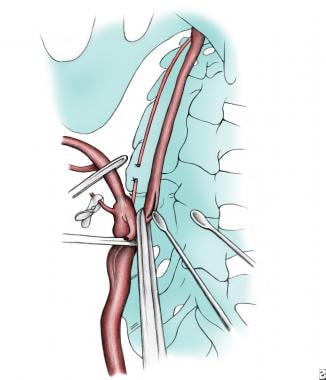 Illustration of the operative approach of graduated dilatation of the internal carotid artery (ICA). The common carotid and external carotid arteries are cross-clamped, and the superior thyroid artery is clipped while the ICA is isolated, opened, and dilated with progressively larger dilators. This technique has been shown to be successful in the management of medically refractive FMD stenoses.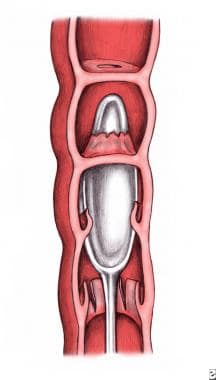 Illustration depicts the intraluminal appearance of graduated dilatation of the stenoses of FMD. The dilator is passed into the vessel and opens the bandlike narrowings.
A few cases with vascular graft placements and surgical bypass of FMD lesions have been reported.
Aneurysms that may coexist with FMD should be managed in a similar manner to non-FMD–associated ones.
Because of the emergence of endoluminal angioplasty and stenting for cerebrovascular disease, interventional radiologic management of FMD lesions may be suitable for some patients, especially those who are not good surgical candidates. Again, no studies have assessed this management option as compared to more established medical or surgical treatment, but it may be deemed an appropriate option in some instances. One case report describes a good outcome after 9 months of follow-up in a patient with bilateral carotid stents placed for bilateral medically-refractory symptomatic lesions. [35]
---
Did this answer your question?
Additional feedback? (Optional)
Thank you for your feedback!