Answer
For a more focused analysis of imaging studies in FMD, please see Fibromuscular Dysplasia (Carotid Artery).
The history of stroke or transient ischemic attack in a young individual or a subarachnoid hemorrhage in a person of any age should prompt imaging of the cerebrovascular system. Further, any individual known to have FMD (eg, renal disease detected) should undergo cerebrovascular imaging to assess for craniocervical involvement and aneurysms.
Conventional angiography remains the criterion standard to detect FMD and its associated vascular lesions (eg, aneurysms, dissections). (See images below.)
FMD lesions typically show a beading pattern. With the most common subtype of FMD, medial fibroplasias, the dilated arterial segments are often larger in diameter than the original vessel. This is not the case with perimedial fibroplasias, in which the beads are up to, but not greater than, the caliber of the original vessel. On the other hand, the intimal fibroplasia and the medial hyperplasia subtypes tend to show long tubular stenoses. [26]
In the internal carotid arteries, these lesions are usually extracranial at the C1-2 level. Stenoses associated with arterial bifurcations, such as at the bifurcation of the common carotid, are more frequently atherosclerotic in nature. Four-vessel angiography should be performed because of the high incidence of multiple vessel involvement.
In 1986, Luscher et al identified 24 patients with cerebrovascular FMD and found that 17% had involvement of the vertebral arteries, 17% had brachiocephalic or subclavian involvement, and 4% had basilar artery disease. [6]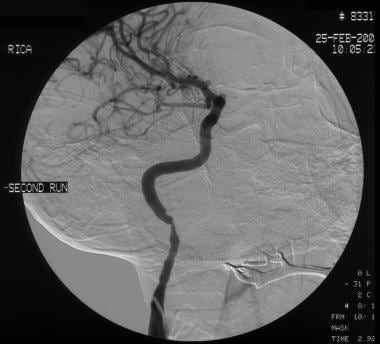 Digital subtraction angiogram of the right internal carotid artery demonstrates an irregular extracranial portion that is consistent with FMD.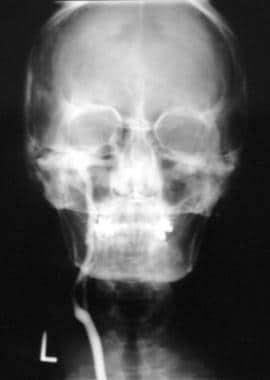 Conventional angiogram of the left carotid artery demonstrates a 1.5-cm, long, smooth, severe stenosis of the extracranial internal carotid artery. Note that the artery is not completely occluded and a thin continuous string of contrast is present along the length of the stenosis. This smooth tubular stenosis is suggestive of the intimal fibroplasia form of FMD but can be observed with any of the subtypes.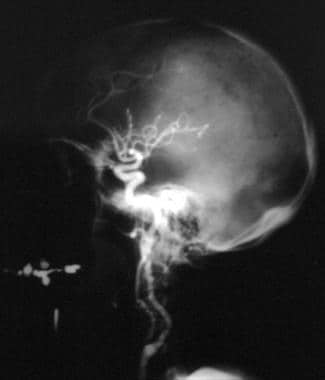 Cerebral angiogram of the left carotid artery territory demonstrates a long, irregular stenosis with a string-of-beads appearance along the entire extracranial length of the internal carotid artery (ICA). This is consistent with the most common medial dysplasia form of fibromuscular dysplasia. Also note similar involvement of the first 3 cm of the external carotid artery (ECA). Such extensive ICA involvement, as well as ECA involvement, is atypical. Note sparing of the carotid bulb.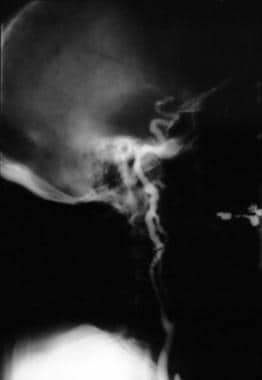 Lateral view of a right carotid angiogram demonstrates multiple stenoses of FMD of the internal carotid artery. The string of beads appearance is suggestive of the medial dysplasia form of FMD.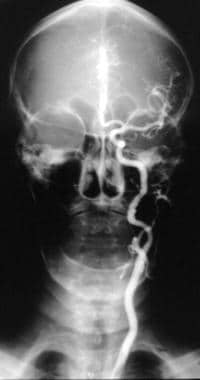 Anteroposterior view of a right carotid angiogram demonstrates FMD of the extracranial portion of the right internal carotid artery.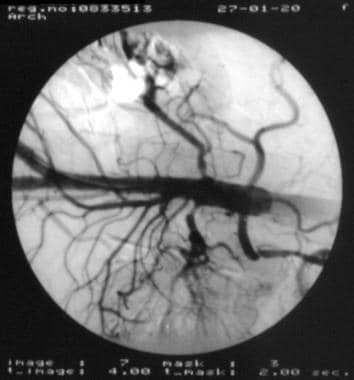 Angiogram of the descending aorta demonstrates the stenoses of FMD in the renal arteries bilaterally.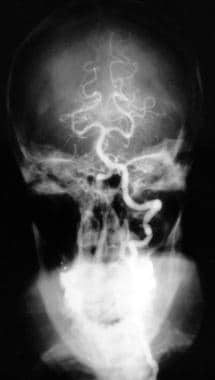 Angiogram of the right vertebral artery demonstrating irregular stenoses of fibromuscular dysplasia at the level of C2-3.
---
Did this answer your question?
Additional feedback? (Optional)
Thank you for your feedback!