Answer
Fibromuscular dysplasia (FMD) is an angiopathy that affects medium-sized arteries predominantly in young women of childbearing age. Among patients with identified FMD, renal involvement occurs in 60-75%, cerebrovascular involvement in 25-30%, visceral involvement in 9%, and arteries of the limbs in about 5%. [1, 2] FMD occurs in most other medium-to-large arteries as well, including the coronary arteries, [3] the pulmonary arteries, [4] and the aorta. [5] See the image below.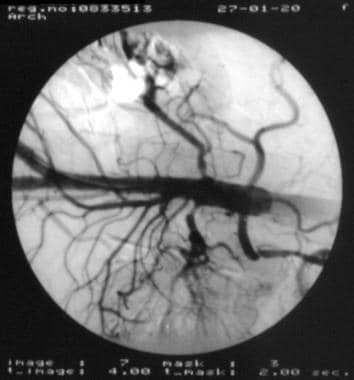 Angiogram of the descending aorta demonstrates the stenoses of FMD in the renal arteries bilaterally.
---
Did this answer your question?
Additional feedback? (Optional)
Thank you for your feedback!