Answer
Answer
The chief benefit of thrombolysis is improved final functional outcome through reperfusion salvage of threatened tissue. The chief risk is intracerebral hemorrhage.
With intravenous thrombolysis, about 6% of patients have intracerebral hemorrhage associated with early worsening, [3, 11] and half of these patients have their final outcome altered as a result. [5] With intra-arterial thrombolysis, about 10% of patients have major early hemorrhage, but again many of these occur in already infarcted fields and do not clearly alter final outcome. Other less frequent complications of thrombolytics include systemic hemorrhage, angioedema, and allergic reactions. [7]
Figure 1 is a visual decision aid that depicts the benefits and risks of intravenous thrombolytic therapy provided to patients within 3 hours of stroke onset. Overall, of every 100 patients treated, 32 will have a better and 3 will have a worse final global disability outcome as a result of therapy.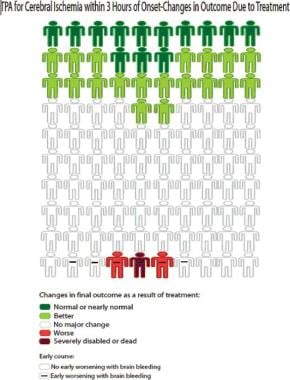 Visual decision aid to help patients and families assess benefits and risks of thrombolytic therapy within the first 3 hours of onset. Image publicly available under a Creative Commons Use with Attribution license.
---
Did this answer your question?
Additional feedback? (Optional)
Thank you for your feedback!