Answer
Answer
The diffusion-perfusion mismatch (DPM), ie, the difference in size between lesions captured by DWI and PWI, usually represents the ischemic penumbra (see the image below), which is the region of incomplete ischemia that lies next to the core of the infarction. [3] The ischemic penumbra is regarded as an area that is viable but under ischemic threat.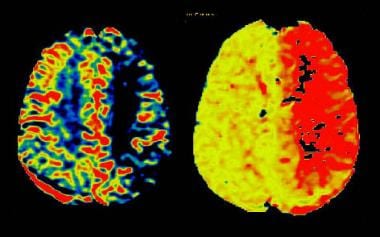 Magnetic resonance imaging in acute stroke. Left: Perfusion-weighted MRI of a patient who presented 1 hour after onset of stroke symptoms. Right: Mean transfer time (MTT) map of the same patient.
Drawbacks to diffusion-perfusion mismatch are mainly methodologic and include the following:
Lack of anatomic match between diffusion- and perfusion-weighted abnormality

Variable sensitivity of perfusion-weighted image based on Tmax delay

Visual versus quantitative estimation of mismatch
Recent trials (DEFUSE and EPIPHET) suggest that DPM is not an effective tool in selecting patients for intravenous tissue-type plasminogen activator (tPA [eg, alteplase]) beyond the traditional 3-hour window. The results of MR RESCUE suggest that DPM is not an effective tool to select patients for endovascular treatment of acute ischemic stroke. Thrombolysis and interventional stroke management in acute ischemic stroke has the benefit of promoting recanalization and improved neurological outcome. However, it also carries the risk of symptomatic intracerebral hemorrhage and possibly increased mortality. Criteria to diagnose DPM are still evolving. Validation of the mismatch selection paradigm is required with clinical trials. Pending these results, delayed treatment, even according to DPM selection, is not recommended.
One limitation of routine MR sequences (T1- and T2-weighted images) is in the detection of acute intracerebral hemorrhages; early studies demonstrated that susceptibility imaging could be sensitive in the detection of acute intracerebral hemorrhage. Gradient-recalled echo (GRE) imaging sequences demonstrated the most favorable sensitivity in detecting susceptibility dephasing associated with chronic intracerebral hemorrhages. Recent guidelines suggest the use of CT or MRI to rule out hemorrhage prior to thrombolytic or interventional stroke management decisions. Due to the increased sensitivity of MR in detecting blood (acute as well as chronic), MRI may have the limitation of excluding patients who would otherwise be favorable treatment candidates.
---
Did this answer your question?
Additional feedback? (Optional)
Thank you for your feedback!