Answer
Answer
Dementia with Lewy bodies (DLB) is a progressive neurodegenerative disorder characterized by the presence of parkinsonian symptoms and neuropsychiatric disturbances commonly accompanied by dementia. Progressive dementia is often the first and predominant symptom. Of note, longitudinal studies show that after a decade of motor symptoms, 78% of patients with Parkinson disease meet the criteria for dementia, [39] as defined in the Diagnostic and Statistical Manual of Mental Disorders, Fifth Edition (DSM-5), as opposed to the 25-30% estimate in patients with DLBD, as derived from cross-sectional studies. Therefore, considering DLBD and Parkinson disease as representing a continuum along a spectrum of cognitive dysfunction is useful. [40, 41, 42]
See the images below showing cortical Lewy bodies.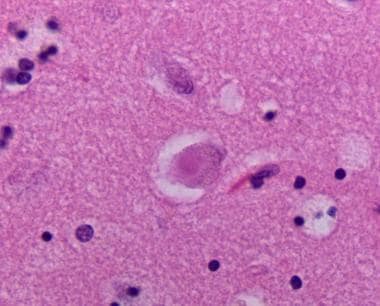 Hematoxylin and eosin stained section of neocortex showing cortical Lewy body.
Neocortex stained alpha synuclein. The presence of cortical Lewy bodies is confirmed by the finding of alpha synuclein positive rounded cytoplasmic inclusion in neurons.
---
Did this answer your question?
Additional feedback? (Optional)
Thank you for your feedback!