Answer
Answer
Corticobasal degeneration (CBD) is characterized by frontoparietal cortical atrophy in addition to degeneration within the extrapyramidal system. CBD patients exhibit cortical findings such as pyramidal signs, aphasia, and myoclonus apraxia along with subcortical extrapyramidal findings such as dystonia as well as the alien limb sign. In recent studies, there is increasing evidence of an overlapping presentation in some patients of progressive aphasia, supranuclear gaze palsy (mimicking PSP), and frontotemporal dementia. Generally, cognitive decline and dysautonomia do not occur until later stages of the disease. The main neuropathological findings include swollen achromatic neurons, gliosis, and neuronal loss in the cerebral cortex, substantia nigra, lateral nuclei of the thalamus, locus cerleus, striatum, and Purkinje layer of the cerebellum. The disease tends to occur in those aged 60-80 years, with a mean age of onset of 63 years. CBD is a rare syndrome, with an estimated incidence of 0.02-0.92 per 100,000 population per year. No familial or environmental factors appear to influence CBD. Progressive supranuclear palsy (PSP) and multiple system atrophy (MSA) may initially be confused with CBD. However, the true diagnosis becomes clear as the apraxia and dystonia develop. Again, the clinical and pathologic features of PSP and CBD can overlap considerably. [33, 34, 35, 36]
Cortical atrophy of the frontal and parietal lobes has been described, with ballooned (see the image below) and enlarged cells seen on microscopy. The substantia nigra is depigmented. However, Lewy bodies and diffuse neuronal loss are conspicuously absent.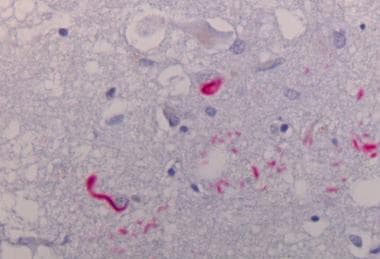 Cerebral cortex with ballooned neuron.
---
Did this answer your question?
Additional feedback? (Optional)
Thank you for your feedback!