Answer
Answer
The clinical definition of multiple system atrophy (MSA) is a progressive, idiopathic, degenerative process beginning in adulthood. Patients present with various degrees of parkinsonism, autonomic failure, cerebellar dysfunction, and pyramidal signs that are poorly responsive to levodopa or dopamine agonists. Glial cytoplasmic inclusions (GCIs) and a neuronal multisystem degeneration are the pathologic hallmarks of this clinically variable disorder (see the image below).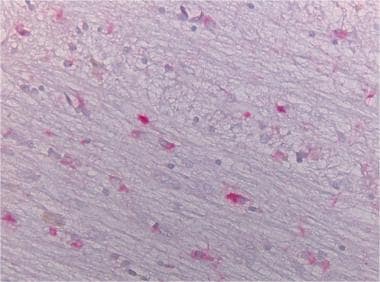 Alpha-synuclein staining of the pons of an MSA case showing the positive glial inclusions (40x).
Dejerine and Thomas first used the term olivopontocerebellar atrophy (OPCA) in 1900 when they described 2 patients with a degenerative disorder leading to progressive cerebellar dysfunction and parkinsonism. In 1960, van de Eecken, Adams, and van Bogaert reported 3 patients with striatonigral degeneration (SND) with atrophy of the caudate nucleus and putamen. In 1960, Shy and Drager described a neurologic syndrome (Shy-Drager syndrome [SDS]) of orthostatic hypotension with parkinsonian features. SDS is identified by parkinsonism, which rarely responds to dopaminergic therapy, and autonomic dysfunction. Though the main features of OPCA are cerebellar manifestations, mild parkinsonism and pyramidal signs are also typically present. Patients with SND usually display parkinsonism and pyramidal signs. Somewhat unique for SND is laryngeal stridor. Not uncommonly, it is very difficult to distinguish SND from PD. [1] In 1969, Graham and Oppenheimer noted that the clinical and pathologic findings of OPCA, SND, and SDS overlapped significantly. They advanced the term multiple system atrophy to describe these disorders.
OPCA, SND, and SDS were considered distinct entities reflecting degeneration of separate neuronal subsystems. Because patients shared many signs and symptoms, the clinical distinction may be unclear. Recent neurobiologic research has justified the grouping of these conditions under a common pathophysiologic definition as variants of MSA.
---
Did this answer your question?
Additional feedback? (Optional)
Thank you for your feedback!