Answer
Physicians primarily use magnetic resonance imaging (MRI) to diagnose syringomyelia.
Imaging of the entire rostrocaudal extension of the cyst or cysts is important. Gadolinium-enhanced images are indicated if a tumor is suspected. Gadolinium-enhanced images are helpful in differentiating between scar or disk material associated with a syrinx, especially in postoperative or posttraumatic cases.
MRI examination should include sagittal and transverse views in T1 and T2 images (see image below). Proton density scans also can be helpful.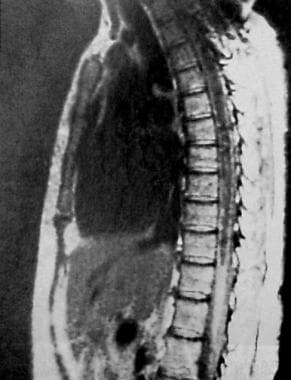 Sagittal T1-weighted image showing a thoracic syrinx.
Magnetic resonance angiography can be especially helpful in cases of syringomyelia associated with vascular lesions.
Cine phase-contrast MRI is used to analyze CSF flow dynamics near the spinal cord cyst.
---
Did this answer your question?
Additional feedback? (Optional)
Thank you for your feedback!