Answer
The reported incidence of cauda equina syndrome resulting from herniated lumbar disk (see the image below) varies from 1-15%. [34, 35, 19] Ninety percent of lumbar disk herniations occur either at L4-L5 or L5-S1. [36, 37]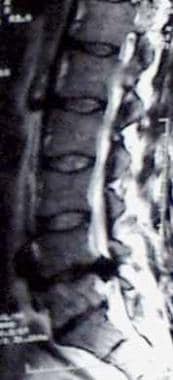 Sagittal MRI of a patient with cauda equina syndrome secondary to a large lumbar disk herniation
Of cases of herniated disks leading to cauda equina syndrome, 70% occur in patients with a history of chronic low back pain; in 30%, cauda equina syndrome is the first symptom of lumbar disk herniation. [18] Men in the fourth and fifth decades of life are most prone to cauda equina syndrome secondary to disk herniation. [38]
Most cases of cauda equina syndrome secondary to disk herniation involve either a large central disc or an extruded disc fragment that compromises a significant amount of the spinal canal diameter. [39] The presentation may be acute or that of a more protracted course, with the latter bearing a better prognosis. [35] Individuals with congenital stenosis who sustain a disk herniation are more likely to develop cauda equina syndrome because even a small herniation can drastically limit the space available for the nerve roots.
Rare cases of intradural disk herniations have been reported to cause cauda equina syndrome. [40] Myelography in these instances typically demonstrates a complete block of the contrast material. If an intradural disc fragment is identified, transdural removal of the extruded disc fragment may be helpful to prevent further stretching of the already compromised nerve root.
---
Did this answer your question?
Additional feedback? (Optional)
Thank you for your feedback!