Answer
The diagnostic hallmark of sarcoidosis is the presence of granulomas in the involved tissue (see the images below). Granulomas are predominantly noncaseating (or solid), discrete, and naked, with a relative paucity of lymphocytes and plasma cells in the periphery. Nerve biopsy reveals secondary axonal degeneration with atrophy of nerve fibers. Myelin ovoids, which suggest demyelination, are occasionally seen. [32]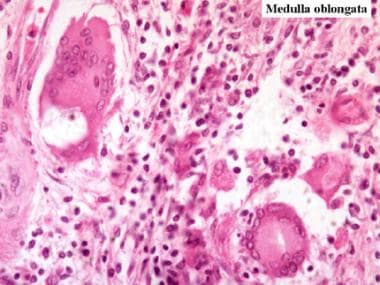 Noncaseating granuloma surrounded by epithelioid cells, from the medulla oblongata. Also shown are nodular inflammatory infiltrates consisting of multinucleated giant cells, macrophages, and lymphocytes (hematoxylin and eosin, 40x).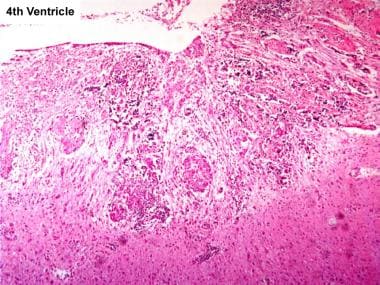 Noncaseating granuloma in medulla oblongata showing the granuloma surrounded by epithelioid cells and nodular inflammatory infiltrates (hematoxylin and eosin, 20x).
In a review by Vital et al of neuropathologic findings in 38 cases of sarcoid neuropathy, the characteristic noncaseating granulomas were found on the nerve in 11 cases, on the muscle alone in 5 cases, on both muscle and nerve in 10 cases, and in the nerve and another parenchyma (mainly lung or lymph node) in 12 cases. These cases included chronic sensory motor neuropathy, mononeuropathy multiplex, painful neuropathy, and atypical chronic inflammatory demyelinating polyneuropathy (CIDP). [33]
Moreover, necrotizing vasculitis was present in nerve biopsies from 8 cases and microvasculitis without obvious necrosis in 2 cases. Vital et al concluded that nerve fiber lesions, which are mainly axonal, are probably related to mechanical compression by noncaseating granulomas and/or to an ischemic process due to vasculitis. Cytokines and immune factors may also play a role, especially in certain cases with a clinical presentation of CIDP. [33]
In a separate series, Said et al found epineurial granulomas and perineuritis in all nerve specimens in 11 patients. The inflammatory infiltrates invaded the endoneurium, following connective tissue septae and blood vessels, in 5 patients. Multinucleated giant cells were found in 8 patients, and necrotizing vasculitis was found in 7. Inflammatory lesions were associated with variable, asymmetrical involvement of nerve fascicles and axon loss. [34]
A muscle specimen sampled during the same sitting in 10 patients showed inflammatory infiltrates and granulomas in 9 patients and necrotizing vasculitis in 2. Immunolabeling showed a mixed inflammatory infiltrate of T cells (predominantly CD4+ cells) and macrophages, in keeping with a delayed hypersensitivity reaction. [34] A case report by Bos et al revealed that nemaline rods can be found on muscle biopsy in neurosarcoidosis. [31]
---
Did this answer your question?
Additional feedback? (Optional)
Thank you for your feedback!