Answer
Tolosa-Hunt syndrome (THS) is a painful ophthalmoplegia caused by nonspecific inflammation of the cavernous sinus or superior orbital fissure. In 2004, the International Headache Society provided a definition of the diagnostic criteria which included granuloma. [1] See the image below.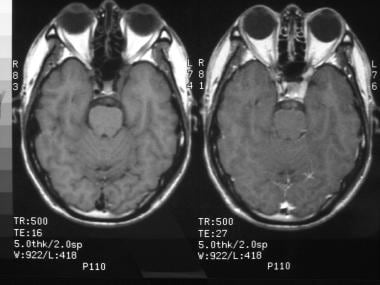 MRI of a 40-year-old man with severe periorbital pain ocular sinister (OS; ie, left eye), complete oculomotor nerve palsy OS, and partial abducens nerve palsy OS. Axial imaging without (left) and with (right) enhancement demonstrates nonspecific fullness involving the left cavernous sinus, consistent with Tolosa-Hunt syndrome within the context of the history. Treatment with steroids produced complete resolution of symptoms. Image courtesy of Eric Eggenberger, DO.
---
Did this answer your question?
Additional feedback? (Optional)
Thank you for your feedback!