Answer
Although a questionable family clustering exists, trigeminal neuralgia (TN) is most likely multifactorial.
Most cases of trigeminal neuralgia are idiopathic, but compression of the trigeminal roots by tumors or vascular anomalies may cause similar pain, as discussed in Pathophysiology. In one study, 64% of the compressing vessels were identified as an artery, most commonly the superior cerebellar (81%). [6] Venous compression was identified in 36% of cases. [6]
Trigeminal neuralgia is divided into 2 categories, classic and symptomatic. The classic form, considered idiopathic, actually includes the cases that are due to a normal artery present in contact with the nerve, such as the superior cerebellar artery or even a primitive trigeminal artery.
Symptomatic forms can have multiple origins. Aneurysms, tumors, chronic meningeal inflammation, or other lesions may irritate trigeminal nerve roots along the pons causing symptomatic trigeminal neuralgia. An abnormal vascular course of the superior cerebellar artery is often cited as the cause. Uncommonly, an area of demyelination from multiple sclerosis may be the precipitant (see the following image); lesions in the pons at the root entry zone of the trigeminal fibers have been demonstrated. These lesions may cause a similar pain syndrome as in trigeminal neuralgia.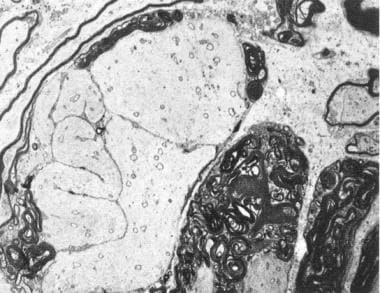 Microscopic demonstration of demyelination in primary trigeminal neuralgia. A tortuous axon is surrounded by abnormally discontinuous myelin. (Electron microscope; 3300×).
Tumor-related causes of trigeminal neuralgia (most commonly in the cerebello-pontine angle) include acoustic neurinoma, chordoma at the level of the clivus, pontine glioma or glioblastoma, [7] epidermoid, metastases, and lymphoma. Trigeminal neuralgia may result from paraneoplastic etiologies.
Vascular causes include a pontine infarct and arteriovenous malformation or aneurysm in the vicinity.
Inflammatory causes include multiple sclerosis (common), sarcoidosis, and Lyme disease neuropathy.
Infrequently, adjacent dental fillings composed of dissimilar metals may trigger attacks, [8] and one atypical case followed tongue piercing. Another case report of trigeminal neuralgia was reported in a patient with spontaneous intracranial hypotension; both conditions resolved following surgical treatment of a cervical root sleeve dural defect. [9]
---
Did this answer your question?
Additional feedback? (Optional)
Thank you for your feedback!