Answer
Answer
Clinical practice and research have led to 2 basic BTX injection paradigms for headache. The "fixed-site" method targets standard craniofacial and cervical sites with a range of predetermined BTX doses. [162] This method is frequently implemented for treatment of migraine, and bilateral application is apropos, even when migraine is exclusively unilateral.
Symmetrical placement of neurotoxin reduces any tendency for the headaches to recur on the uninjected side and improves the likelihood of a favorable cosmetic outcome. The "follow the pain" approach is often used for treatment of chronic tension-type headaches, but can be used for migraine by distributing injections into areas that demonstrate tenderness or cover the headache location. Frequently, the author targets craniofacial, pericranial and cervical musculotendinous sites that act as migraine triggers or as pain generators during the headache. Palpation of these actively involved muscles may reveal spasm and tenderness. Some clinicians advocate subdermal injections or toxin placement adjacent to emerging branches of the trigeminal nerve (eg, supraorbital and supratrochlear nerves).
Therapeutic BTX dosages and injection techniques vary between individuals and between clinical disorders that affect the same muscle groups, as exemplified by hemifacial spasm, dystonia, and cosmetically undesirable hyperkinetic facial lines. The number of injection sites and total BTX dosages vary among clinicians, but should be individualized for each patient. Factors that may effect dosing include injection methodology, headache type or severity, treatment of adjacent or regional areas of involvement, and the subject's body habitus.
Standardized criteria for BTX treatment of headache have been published but are not yet established. [113, 163] Sample injection sites and dosages are outlined in the table below. Although many physicians, including the author, prefer more concentrated BTX-A solutions, such as 100 U/1-2 cc NS, many injectors advocate a higher dilution of 100 U into 2-4 cc of vehicle. [162] Many characteristic injection sites contain small, nodular, tender trigger points in distribution patterns similar to those described by Simons and Travell. [45]
Table 2. Guidelines for Headache Treatment: Botox Dosing of Specific Muscles (Open Table in a new window)
Common Injection Sites

Botox Dose (U)

Botox Dose(U)

Number of Injection

Muscle

Abbreviation

Per site

Per muscle (each side)

Sites per side

Fixed site method. Characteristic injection sites.

Procerus

P

2.5

2.5-10

1-2 (midline vertical or horizontal relationship)

Corrugator supercilii

Medial

mcs

2.5

2.5

1

Lateral

lcs

2.5

2.5

1

Frontalis

f1,f2

2

20

2-6

Temporalis

t1,t2

2.5

30

4-6

Occipitalis

o

10

20

1-2

Follow the pain method. Common injection sites.

Splenius capitis

c2

5-7.5

5-15

1-2

Cervical paraspinal

c1

5-7.5

5-15

1-2

Masseter

m

10-50

10-50

1-2

Trapezius

z1,z2

5-10

15-50

3-4

Note: Regular text denotes characteristic "fixed-site" method dosages and injection sites. Italic text denotes "follow-the-pain" location choices, doses, and number of sites.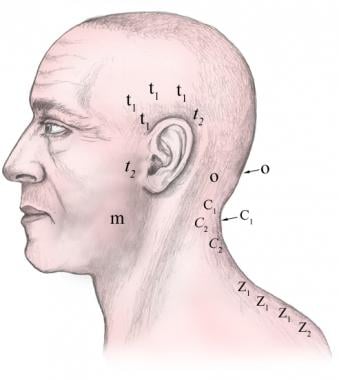 Lateral injection sites.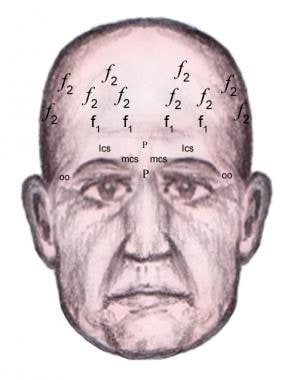 Frontal injection sites.
---
Did this answer your question?
Additional feedback? (Optional)
Thank you for your feedback!