Answer
Answer
Lumbar medial branch blocks, the technique of which also has been described by Bogduk et al, are performed under fluoroscopic guidance. The needle target for medial branch blocks of L1-L4 is on the dorsal surface of the transverse process, where it joins the superior articular process. The medial branch of each of these lumbar segments crosses the transverse process of the segment below; for example, the L4 medial branch crosses the L5 transverse process and so on. A 22- or 25-gauge, 9-cm spinal needle typically is used to perform the block. Larger needles are easier to maneuver through the back muscles, while finer needles are averted more easily from their intended course.
When using C-arm fluoroscopy, with the patient in a prone position, the image intensifier or the patient is rotated in a ipsilateral oblique angle with respect to the targeted nerve root, thereby bringing the "Scotty dog" appearance of the vertebral segment to view. Rotation of the C-arm or patient is continued until the ventral aspect of the superior articulating process (earof the Scotty dog) has the same vertebral number as the nerve root to be blocked. The anatomic site of the medial branch (at each targeted level) is located on the image of the Scotty dog in a groove formed by the transverse process (nose of the dog) where it joins the superior articular process (ear of the dog) with aim directed over the superior-lateral margin of the pedicle (eye of the dog), which is also approximately the 1 or 2 o'clock position of the eye for this obliquity. See image below.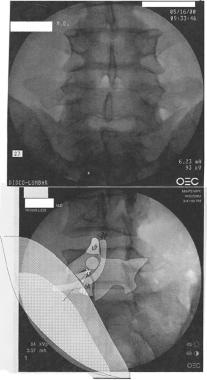 Oblique "Scotty Dog" view is shown in the bottom radiographic image of the lumbar spine.
Injections of the medial branch are primarily performed to determine whether or not a neurolytic procedure, which denervates the targeted posterior articulations, might provide long-term pain relief. [24]
---
Did this answer your question?
Additional feedback? (Optional)
Thank you for your feedback!