Answer
Answer
Lumbar paramedian epidural spinal blocks may be carried out in the sitting, lateral, or prone position, with the sitting position being favored for simplicity of patient positioning when compared with lateral position. [19] The patient is placed in the optimal sitting position with the lumbar spine flexed, and forearms placed on a padded bedside table. The skin is prepared with an antiseptic solution, usually at the L3-L4 inner space. The operator's middle and index fingers are place to the side of the respective spinous processes. The position of the inner space is confirmed with palpation using a rocking motion in the superior and inferior planes. The midline of the selected inner space is identified by palpating the spine this processes above and below the interspace using the lateral rocking motion to ensure the needle entry site is exactly in the midline. See image below.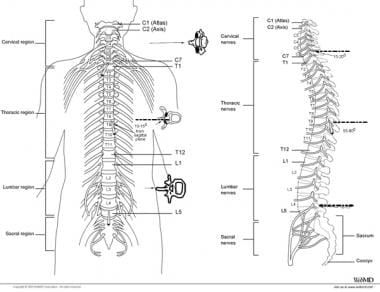 Typical placements for cervical, thoracic, and lumbar interlaminar epidural steroid injections.
---
Did this answer your question?
Additional feedback? (Optional)
Thank you for your feedback!